Falkenbach starts in the wide side-valley west of the Zschopau River and intersperses itself up into the hilly landscape of meadows, woods and fields. From its highest point at the end of the village and the athletes homes in Schönbrunner Street there is a magnificent view of the mountains and eastern bank of the Zschopau. Falkenbach is a typical street village with country character which was founded by Franconian settlers as a "Waldhufen"-style village of narrow strips of land positioned along one road.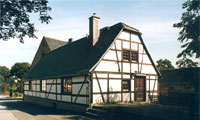 Silberstrasse "Silver road" is the main village thoroughfare and winds its way slightly from east to west. In the valley below it turns after one kilometre into the B 101 and above the village, after approximately 7 km into the B 95. Both B roads are important national roads. Falkenbach has 410 inhabitants today.
The first documented mention of the village was in 1386. The actual settlement, however, took place in the second half of the 12th century. By the end of the 15th century amethyst was being expertly mined in Seidelgrund near Falkenbach.
In addition to farming businesses, there are also long-established handcraft businesses and independent businesses in the community. In the Falkenbach hosiery mill, hosiery have been produced traditionally since 1927.
The village of Oberlaube is under the protection of historical monuments and is a favourite gathering place. The youth centre is located here. The rooms are also used by the church community and for family events.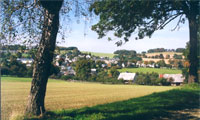 Across from the "Erbgericht" (inheritance court) is the memorial to the fallen soldiers of World Wars I and II. A walk from here towards Schönbrunn takes you past the sports centre with its sports field, bowling alley and athletes home. The sport facilities are well-maintained. Numerous sports are on offer including: football, judo, bowling and women's gymnastics. Falkenbach has been enriched by its many clubs. The events held by the Carnival Club Falkenbach e.V. are always an attraction and well visited. The A-Youth Savings Bank Tournament for the LBS-cup can now also be considered traditional being held every August by the sports club Falkenbach e.V.
The holiday-maker can reach many worthwhile destinations from Falkenbach. If you value leisure and relaxation, choose one of the many beautiful hiking trails in the immediate surroundings to better get to know the superb scenery of the "Erzgebirge". One of the most beautiful views of the mountain crest can be viewed from Franzenshöhe to the west, where the restaurant "Kalter Muff" is located. The visitor can relax after a tiring day of walking in the pleasant, newly furnished holiday flats and rooms. Every year on the first day of advent a Christmas pyramid is erected on the square in front of the Falkenbach "Erbgericht".