. In the second half of the 12th century the castle, whose owners, the Lords of Waldenburg-first mentioned in 1241- was constructed in the course of the first land acquisition and settlement.

By 1293 rich mining was being carried out around Wolkenstein and a private mint was mentioned in 1323.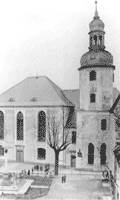 A city settlement developed along with the castle surrounded by a common wall. Its exposed position high on a cliff above the Zschopau has been a favourite motif for painters and drawers for hundreds of years and lent the city its complimentary name "Saxon Rothenburg" in the 19th century.
After the dying out of the Waldenburgs of Wolkenstein, the Lordship fell to the Wettins which converted it into a electorate office and after 1500 constructed the Late Gothic residence. The historical city centre includes, among other things, the city church St. Bartholomaeus. Built in the Romanesque period and dedicated to Saint George it was given its current form after the third city fire. The Mühltor, Fronfeste, castle cellar with magnificent crosses of St. Andrews, the Alte Pfarre, a subterranean tunnel system, the post marker from 1730 and remains of the old city fortification put the visitor into a mediaeval mood during a walk through the streets and alleyways of the small city. Five city fires, the worst in 1802, seven sieges during the 30 Years War and later hardships from war and famine impoverished the inhabitants.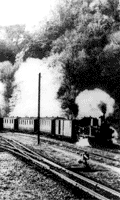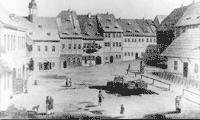 At the end of the 19th century the construction of the railway line Chemnitz-Annaberg in 1866 and the commissioning of the narrow-gauge railway to Jöhstadt in 1892 produced a boom. The neighbouring Warmbad, the oldest and warmest health spring in Saxony developed into a spa which the city bought in 1926.
The citizens lived predominately from shoemaking, passementerie and bobbin-lace making, beer brewing and less profitable farming. Clubs experienced a heyday. The shooting guild (founded in 1572), choir and gymnastisc club and the "Erzgebirge" Branch Club founded in 1878 which had the most members in Saxony in 1920 helped open up the area around Wolkenstein to tourism.