Gehringswalde is located directly on the 'Silver Road'-the B 101. Together with the health resort village Warmbad and Huth it has 750 inhabitants. It was first documented in 1427 however its origins date back to the 12th century. Gehringswalde was initially a large pre-establishment.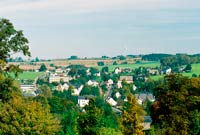 Foto: Lohse
It can be concluded that the place became a 'Waldhufen'-style village through the settlement of the Franconians, since the forest inhabitants who received land between Drebach, Jönstadt, Heinzebank and Kühnheide on tenure from the Margrave of Meissen attracted mainly Franconian settlers.
The development of Gehringswalde goes hand in hand with the development of mining. Already in 1589 people were digging a metalliferous vein, the 'Palm Tree Flats' between Warmbad and the north eastern end of Gehringswalde. A large extent of the Wolkenstein mining nature trail winds through the territory belonging to Gehringswalde. Stock piles from various mining ages and the impressive pit walls of the Felber mining shaft in the mining area 'Himmelsreich' are a testament to the important branch of industry in the region.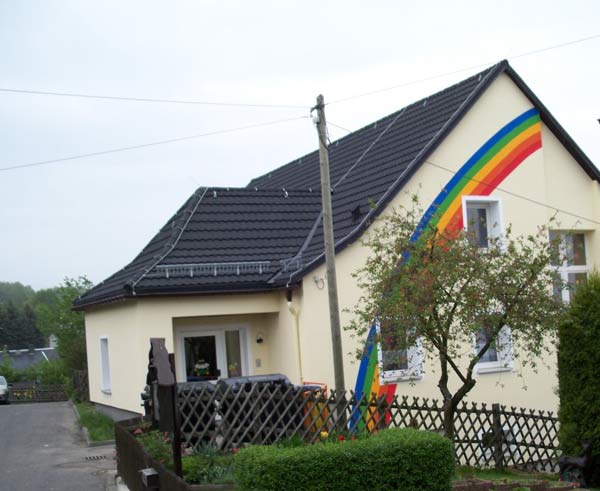 Kindertagesstätte Regenbogen
The holiday-maker can spend a few days holiday here and be inspired by the comfortable bed and breakfasts, holiday flats and rooms. The possibility of indulging in the 'Silber-Therme' in the health resort of Warmbad, which has the oldest and warmest health spring in Saxony should not be the only reason to stay. The youth hostel in Warmbad offers school classes, groups and families an enjoyable stay. At the same time, an active club life livens up the small village. The fire brigade, homeland club and sports club hold barbecues, family hikes, sports festivals and weekly meetings in the club rooms.
The Christmas season is traditionally heralded in on the first day of advent. Father Christmas comes to see the smaller guests while the pyramid is set up and lighted by the Gehringswalde homeland club and Warmbad e.V. to Christmas music and the scent of mulled wine. Every year during the Christmas season the layman's theatre group of the homeland club
puts on a play in the Erz Mountain dialect which is enjoyed by inhabitants and guests. Currently the health resort of Warmbad is developing into a modern health centre. Gehringswalde is twinned with Ruppershofen www.ruppertshofen.de .