The first documentation of the village is in a visitation report from 1539. After 1500, what is now Heinze forest was a favoured hunting ground for Duke Henry the Pious, the founder of the mountain city Marienberg.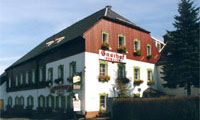 Evidence of history can be found in a depiction of a historical salt mine on the side of the 'Heinzebank' Hotel. Above the hotel's former entrance door is a painting of one of Duke Henry's hunting suppers and there is an ornamental painting on the former servants' house door lintel from 1794.
The Art Nouveau chapel in the graveyard is also an object of interest. In the graveyard there is also the 'knight's buried treasure' and a monument to the victims of both World Wars. You can find out more about the history in the museum in the former school. Here you can find among other things, the fire brigade chronicles, a composition of 100 years of history in Hilmersdorf and old school books.
Due to the excellent road situation, the community Hilmersdorf decided to create a business park called 'Hilmersdorf / Heinzebank' in 1993. Currently there are 20 business located there. Around Hilmersdorf there are many hiking trails from which you can get a great view of the mountain crest. On the signposted trail to, for example, the Drei-Büder-Höhe (three brothers heights) you walk past the five windmills on the Hilmersdorf 'Hofhöhe' and the motocross training ground of the Off-Road-Club! Once again in the village, the comfortable holiday flats and bed and breakfasts invite you to spend a relaxing holiday here. Restaurants offer good Erz Mountain cuisine. In Hilmersdorf there are eight different clubs with a lively club life. Merited athletes have represented the village and made it known nationwide. Andy Weinhold won the title '2002 German Runner-up' in mountain bike cross country. Christoph Seifert received the title '2001 Runner-up' in the German Enduro Championships. Hilmersdorf is twinned with Heuchlingen.