The village of Schönbrunn is located on the opposite mountain side from Wolkenstein in a quiet area and at the same time along the regionally important B 101. Schönbrunn together with its village of Niederau has 480 inhabitants.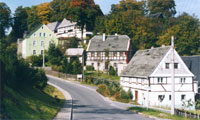 The first documented mention of the typical 'Waldhufen'-style village, then called 'Schönbron' was in 1386. In 1525, 700 insurgent farmers from 17 surrounding villages made camp here in order to handover their demands to the Wolkenstein bailiff. Starting in 1856 Schönbrunn was subordinate to the newly formed Wolkenstein Court.
Visitors immediately recognise its village-like character. It is reflected in the lovingly-restored half timbered houses and barns. Bed and breakfasts and holiday flats invite any holiday-maker interested in peace and nature to come and relax here. Many signposted hiking trails enable hiking in the delightful surroundings.
A hike to the view point 'Ziegenfelsen' reveals an impressive view of the Zschopau Valley and the historical Zschopau bridge with its Saxon spa coat of arms, and the Wolkenstein Castle. The hiking trail takes you further to the romantic Heidelbach Valley and back to the 'Wolkenstein Switzerland'.

In Zschopau Valley, the lowest point in Schönbrunn, an original train hotel and a Greek Specialities Restaurant invite you to eat and stay overnight. Visitors can also look and buy Erz Mountain folk art there. Alongside a few handcraft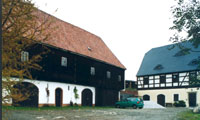 businesses in the village, there is a stud farm. Here you can relax by taking a carriage ride or riding a horse. The village Protestant Church was built in 1718 and extended in 1904. Inside the building is a Baroque alter and Art Nouveau paintings. Sermons held once a year in the Erz Mountain dialect attract visitors from all around to the Schönbrunn village church. The local fire brigade holds the popular 'Spray Festival' every summer.
Schönbrunn in twinned with the Schönbrunn Municipality (www.gemeinde-schoenbrunn.de)
The Christmas season begins on the first day of advent with the now traditional 'Schwibbogenfest' in Wolkenstein and the lighting of the pyramids around the district. The city radiates with light, just as the rest of the 'Erzgebirge' does.