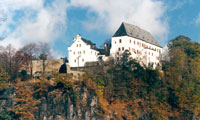 Wolkenstein Castle, located on the steep 80 metre high Gneis cliffs, greets and fascinates us from afar and entices visitors to discover it. If you haven't stepped into the castle courtyard, you haven't really been to Wolkenstein.

Construction History of the Wolkenstein Castle

The castle-residence developed historically by joining various older structures together. The tower with living quarters is the oldest part of the castle dating back to the 14th century, which was preceded by fortifications of unknown appearance. The kitchen building was expanded in the 16th century by the current dominating building parts: the South and North wings with gate house. Although much hints to the once necessary fortifications, the building ensemble is now considered a residence.



The

museum at Wolkenstein Castle will give the interested visitor further glimpses into the history of the building and the city. The exhibit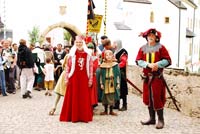 Foto: Katrin Albrecht

"Jurisdiction in the Middle Ages" is located in the former torture chamber and shows original evidence of this eerie chapter of the past.

City clubs, including the Wolkenstein Knights Club, "Culture behind old walls", Castle folk of Wolkenstein and the historical Prince Maximillian Regiments and the Infantry Battalion from Spiegel arrange events and festivals in the inner and outer areas of the castle complex.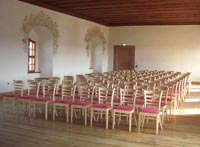 The historical

wedding room and an adventure restaurant enliven the old walls just as the year around herb garden does. In the tourist information you can receive abundant information about things to do while you are here.